Equipping and assisting Christians to respond to conflict biblically.
Peacemaker Ministries is a non-profit, nondenominational ministry whose mission is to equip and assist Christians and their churches to respond to conflict biblically. We want to partner with people in conflict and help them navigate their conflict and heal their relationships. Christians are called to "love one another" and conflict often gets in the way of us doing that well. Peacemaker Ministries has spent decades developing an effective process to navigate conflict through biblical principles.
Welcome to Peacemaker Ministries! Let's navigate your conflict together. Our relationships with God and each other are key to building healthy marriages, families, churches, workplaces, and communities. My hope is that you will experience the Gospel in such a deep and profound way, that you will never be the same. If the Gospel is lived out daily, our lives and our relationships will be transformed into the likeness of Jesus Christ.
If there is any way we can serve you, please don't hesitate to get in touch.

Pastor Brian Noble, CEO
Peacemaker Ministries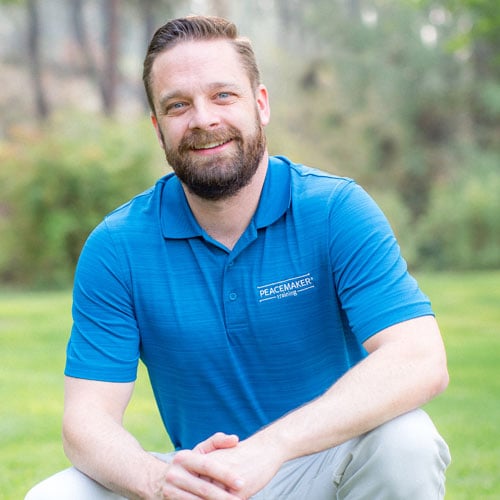 The history of Peacemaker Ministries
Peacemaker Ministries was founded in 1982 by Ken Sande, originally under another name. In the 1990's the ministry merged with the Association of Christian Conciliation Services and was renamed Peacemaker Ministries. The ministry flourished under Ken's leadership, developing resources, training hundreds of Christians in conflict coaching and mediation, and assisting countless people to respond to conflict biblically. In 2012 Ken stepped down from leadership and Dale Pyne became the new CEO. He moved Peacemaker Ministries from Montana to Colorado Springs and, over the next few years, strategically aligned it and positioned it for the future.
In March of 2017, Dale stepped down and the Board of Directors appointed P. Brian Noble as the CEO. Brian moved the headquarters of Peacemaker Ministries to Spokane Valley, Washington, where he and a creative staff are developing new resources for churches, marriages, and the workplace. He has written a Path of a Peacemaker book, which will be published in 2019. Brian loves to teach, and travels around the country presenting The Path of a Peacemaker in a wide variety of settings.
Excellent Leadership Since our Founding.
Get a free copy of our inspiring eBooklet.
It all starts with the Gospel...
This eBooklet leads you through 5 biblical truths that will remind you and encourage you of what God says about conflict. Whether you're helping someone else or going through your own relational difficulties, this resource will point you back to the truth.